Angel Cards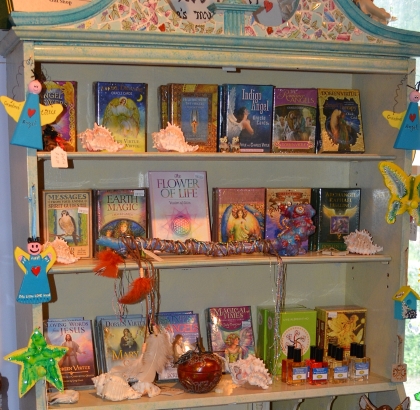 Angle Oracle Cards are a great way to learn about your deeper self, and the path that you are on.
Fun Items are all over the Store!
So many fun items to just brighten up your day! It keeps you smiling, and that's all that really matters!
Pendulums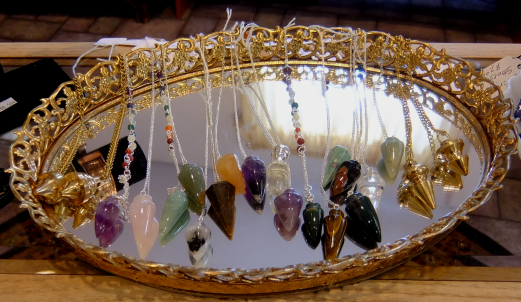 Pendulums are on display so that you can find the one that calls you. Like any sacred stone item, you want to make sure that you get the one that means the most to you.
Statues for your home or altar
Buddha statues of all kinds are in the store. We celebrate the culture and beliefs of Hindu and Buddhist followers. This is one colorful piece!
The Goddess
This beautiful representation of the ancient goddess statue is perfectly sized for sitting on your altar where you do all you sacred work.
Athame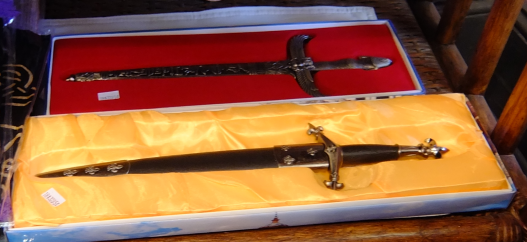 Our ceremonial blades are just right as a display, or use in Rituals.
Feeling Anxious?
We have many products in the store that specifically help those with anxiety issues. Aroma Oils, Essential Oils, Roll ons, Inhalers, and herbs.
Aroma Therapy
Aroma Therapy is one way people are using today to fight stress, or anxiety as well as many pain and health issues. We have incense, oils, roll ons, inhalers, hydrosols, massage oils, bath salts and so much more!
Oil Warmers to add a sweet aroma
Oil Warmers will heat a water and oil mix from the candle below. The Aromatic Oils of all kinds give your rooms a warm feeling.
Gifts from Egypt
These beautiful papyrus painting are just in from Egypt.
Mortar and Pestle
Mortars and Pestles are just like the ones used by your ancestors to mix herbs for making medicine and performing rituals.
Runes are used in many cultures.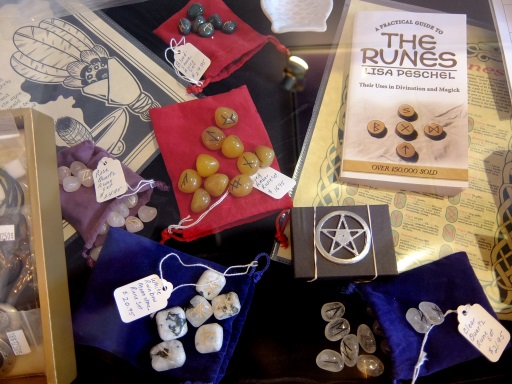 Runes are used for divination, health, love, and many other choices.
Our Herb Rack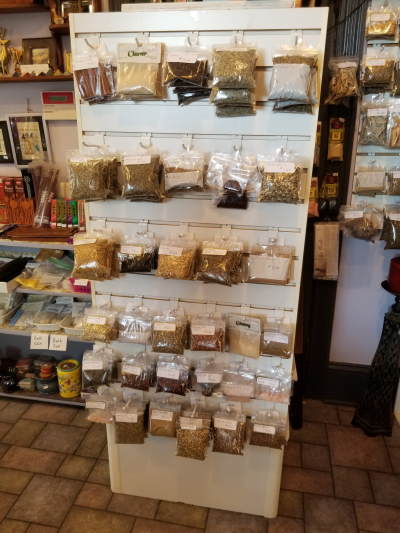 We have over 120 herbs packaged and ready to go. Whether you use them for health or ritual, we have most everything you need!
Tea Pot Cauldron
Cauldrons are used for cooking but these small ones are good for incense or herb burning. The one also has a unique look at can be used as a small teapot.
The Bookshelf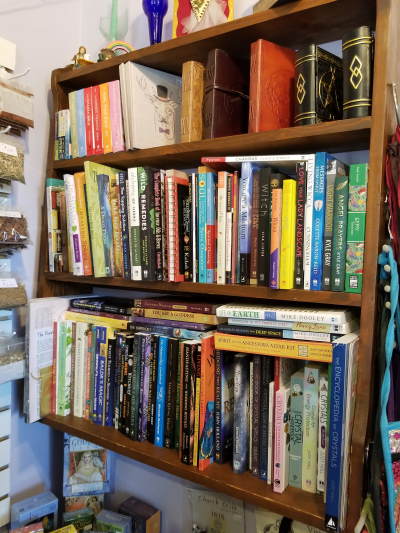 We are always adding on to our metaphysical and New Age books. We also have leather covered journals with hand made paper, that make great diaries or (if you like) a book of shadows. We also have secret book boxes to keep items away from prying eyes.
If you are not sure how to use any of the items in our store, please ask us! We are familiar with all of them, and use most of them on a regular basis.