Angel Cards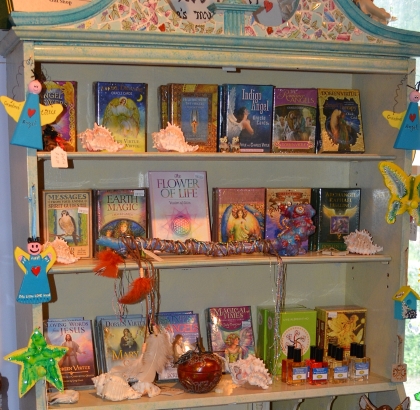 Angle Oracle Cards are a great way to learn about your deeper self, and the path that you are on.
Fun Items are all over the Store!
So many fun items to just brighten up your day! It keeps you smiling, and that's all that really matters!
Pendulums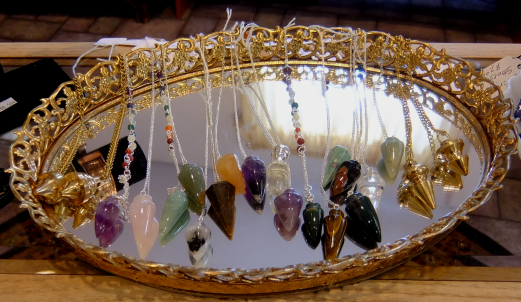 Pendulums are on display so that you can find the one that calls you. Like any sacred stone item, you want to make sure that you get the one that means the most to you.
Jewelry from Disarmed Nuclear Weapons
We have a lot of "From War to Peace" Jewelry. They took weapons of war, and turned it into jewelry of peace. It's like having a little piece of history.
The Eye of Horus
Beautiful Egyptian Necklaces Sterling Silver from Egypt
Athame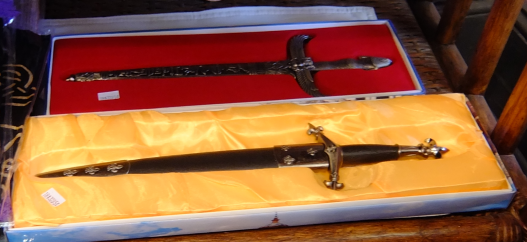 Our ceremonial blades are just right as a display, or use in Rituals.
Hand Etched Bottles
These bottles are each one of a kind. They are etched by hand in designs as Elaine thinks of them. They make great bar lights, night lights, or centerpieces to a romantic dinner.
Lots of Great Stuff
Party bags are can hold a cell phone, drivers license and a little money for when you don't want to carry your whole purse. But if you want a bag, you should check out ours! Bottle Bells, Angel Statues, and Rune Necklaces.
Oil Warmers to add a sweet aroma
Oil Warmers will heat a water and oil mix from the candle below. The Aromatic Oils of all kinds give your rooms a warm feeling.
Gifts from Egypt
These beautiful papyrus painting are just in from Egypt.
Angels and Rosaries
We have many angel items throughout the store. Angels, Crosses, Saint Charms, and many great items.
Runes are used in many cultures.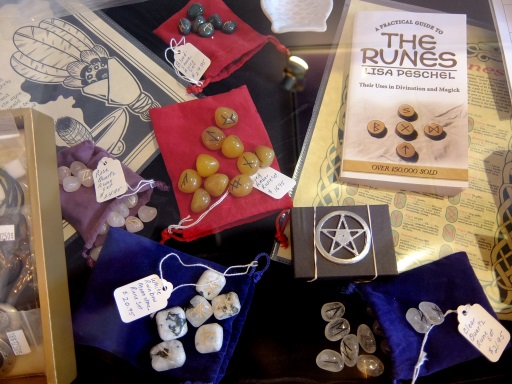 Runes are used for divination, health, love, and many other choices.
Our Herb Rack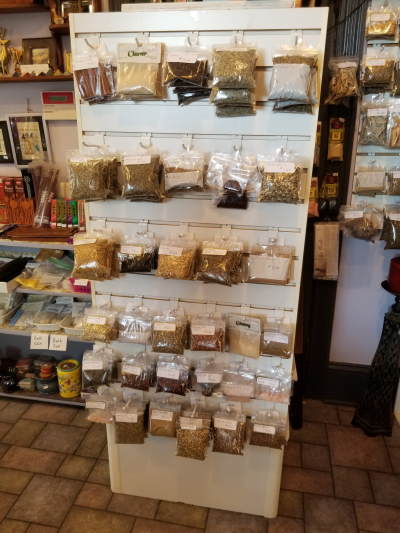 We have over 120 herbs packaged and ready to go. Whether you use them for health or ritual, we have most everything you need!
Oils for Your Oil Warmers
Many choices of aroma are available including Strawberry, Apple, Sandlewood, Opium, and lots more!
The Bookshelf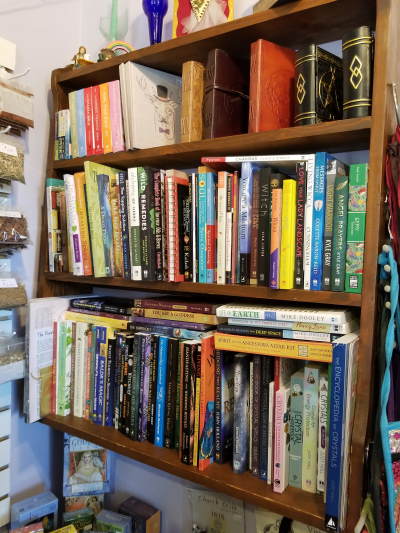 We are always adding on to our metaphysical and New Age books. We also have leather covered journals with hand made paper, that make great diaries or (if you like) a book of shadows. We also have secret book boxes to keep items away from prying eyes.
If you are not sure how to use any of the items in our store, please ask us! We are familiar with all of them, and use most of them on a regular basis.